Become an Alternative Tourist
You've done the ferry across the Mersey, visited the Anglican Cathedral and have about 100 pictures of the Albert Dock. Now what can you do? When you're visiting a new city for the first time and you've done all the obvious tourist stuff you're often left wondering what to do next. It can be pretty tempting to just go to the cinema or simply head back to the hotel but there's so many more things to do in Liverpool than just the usual tourist attractions. Whether you're after something unusual or adrenaline filled, there is always something fun to do and experience. We've put together a guide of alternative tourist attractions in Liverpool so that whether this is your first trip, or you're tenth, visiting with the family or just the adults, you're bound to discover something to keep you entertained on your city break.
Thrill Seeking
Adrenaline junkies are guaranteed to get their fix in Liverpool. From water sports, to rock climbing Liverpool has it all. We've rounded up some of the best alternative activities in Liverpool that are bound to get your heart pumping.
The Climbing Hanger 6 Birchall St, L20 8PD – Whether you're a complete beginner or a seasoned pro, it's time to start climbing. This is one of those perfect activies for a rainy day in Liverpool. Full training is available for those who've never done it before and there's even a café on site to refuel afterwards. Easily accessible from Sandhills station, find out more details here.
Liverpool Wake Park 110 Mariners Wharf, L3 4DG. Located on Liverpool's iconic waterfront, strap yourself in for a wild ride as you try your hand at wake boarding. One on one lessons are available with experienced instructors who'll do their best to turn you from a novice to a pro! Done it before? Purchase your pass and hire equipment from the onsite pro store and get on the water. Find out more here.
Indoor Paintball 131 Vauxhall Rd, L3 6BN. Challenge your mates to a paintball battle at this indoor paintballing centre located only a few minutes' walk from the city centre. You can play capture the flag or just go all out in a battle to the death. Want to relive your childhood? Be sure to check out their Nerf arena too! You can get all the details
Spring City Trampoline Park 1&2 Glacier Building, Harrington Rd, L3 4BH. Perfect your basketball dunk, get competitive in a game of dodgeball or simply practice your backflip on the jump bag. Located at Brunswick Dock, a quick train ride from town, Spring City offers hours of fun in an iconic location. Get the details here.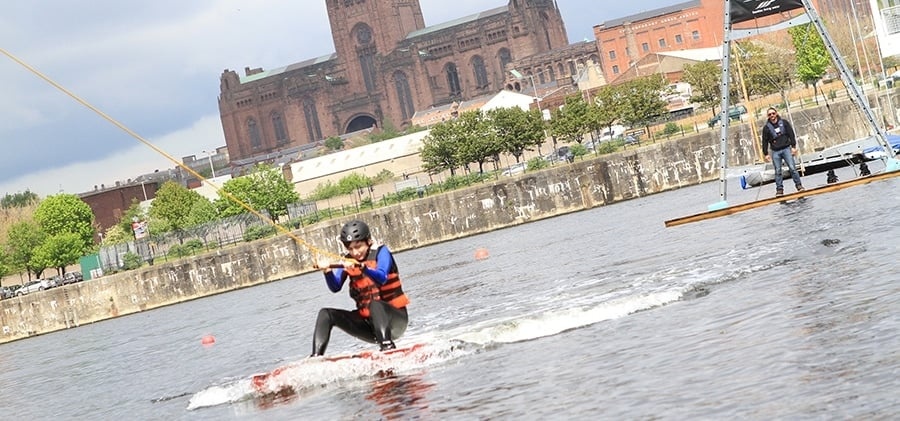 Explore the Docks From the Water
At Liverpool Water Sports Centre, you can hire canoes, kayaks and even stand up paddle boards, allowing you to explore the historic docks from a new perspective. Take to the waterways and slowly journey through the different passages at your own pace, whilst getting in an excellent work out at the same time! Find out more here.
Game Board Café
Choose from hundreds of games, including the classics and the downright bizarre, at Sugar and Dice, Liverpool's first board game café. Enjoy delicious home-made cakes, sandwiches and more whilst you and your friends battle it out to become Monopoly champ, or Buckaroo master. It's a great alternative way to spend an afternoon in Liverpool. Visit their website to find out more.
Go Ghost Hunting
For those feeling particularly brave, Shiverpool takes victims on alternative, historical tours of Liverpool, revealing its mysteries and spooky past. Not for the fainthearted, it's won multiple tourism awards and is something not to be missed. Find out more here.
Get Lost Under the City.
The Williamson Tunnels date back to the 19th Century and form a labyrinth underneath Liverpool. Guided tours ensure there's no chance of getting lost as you explore this network of tunnels and discover more about Liverpool's eccentric past. Another alternative tourist not to be missed, book your experience here.
Play a Game of Alternative Bingo
Be warned – this is not the type of bingo your Granny plays with her friends on a Tuesday afternoon. This is Bongo's Bingo, the alternative smash hit that has taken over Liverpool and the world, and even been played on the party island of Ibiza. Live DJs get the party atmosphere started and before long the event feels more like a rave than a bingo game. Bingo is actually played though and prizes range from life size cut outs of Bruce Forsyth, Henry Hoovers and cold hard cash. Events run year-round down at Camp and Furnace. Check their website for all the details.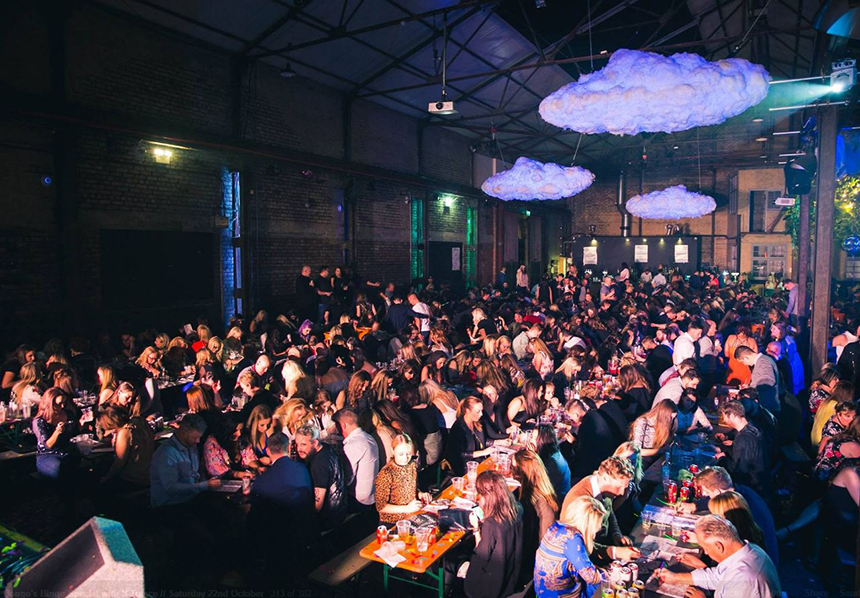 Take a Bar Crawl Though the Business District.
Escape the rowdiness of Concert Square and Matthew Street and discover an alterative drinking scene in Liverpool's business district. Here, you'll discover an eclectic mix of old man pubs, craft breweries and suave cocktail bars, meaning there's something that'll appeal to all. Some of our favourites to check out are:
Dead Crafty Beer Co – Dale St, L2 5TF
SHENANIGANS – 77 Tithebarn St, L2 2EN
Ma Egerton's – 9 Pudsey St, L1 1JA
The Alchemist – 5 Brunswick Street, L2 0UU
Go Red Squirrel Hunting
Formby Park is one of the only places in Britain where you can still find red squirrels in their natural habitat. The pristine sandy beach and surrounding woodlands have been taken over by the National Trust to try and preserve this endangered species but with numbers continuing to dwindle, it's best to see them now whilst you still can. Formby Park is most easily accessible by car but there are nearby stations you can walk from. For full details, visit the National Trust website here.
Tuck into Some Traditional Liverpool Food.
Scouse is a traditional Liverpool dish that was invented to keep fisherman going during long stretches at sea. This beef and potato stew is so popular today that it even has its own annual day of celebration on 28th February. There's much debate as to who serves the best bowl of scouse in the city so below you'll find places contending for the title and we'll let you be the judge:
The Baltic Fleet Pub – 33A Wapping, L1 8DQ
The Ship and Mitre – 133 Dale Street, L2 2JH
Maggie Mays – 90 Bold Street, L1 4HY
Ma Boyle's – Tower Building, 7, Tower Gardens, L3 1LG
Discover Liverpool's Next Comedy Legend
Liverpool is the home of many famous comedians including Ken Dodd and John Bishop. There are a number of comedy clubs across the city where up and coming talent can start to make their name on the comedy scene and appear alongside already established acts. Our favourite is the Hot Water Comedy Club which regularly has free shows hosted by excellent compares. Check their website for a schedule of upcoming shows.
Travel to 'Another Place'
Well, actually you'll need to travel to Crosby Beach. Once there though, you'll be able to see the 100 Iron Men that make up Anthony Gormely's 'Another Place' installation. It's a sight that sadly not many tourists in Liverpool experience. For those that do, they'll be able to walk along a beautiful sandy beach and take a selfie or two with the famous Liverpool statues.
Go Graffiti Hunting
Take an alternative tour to discover Liverpool's growing street art scene. Local artists like Paul Curtis have made a name for themselves in recent years by displaying their creative art work on the city's streets. A significant number can be found in the Baltic Triangle, Liverpool's creative hub, but wherever you are in the city, if you take the time to look around you're bound to see something amazing.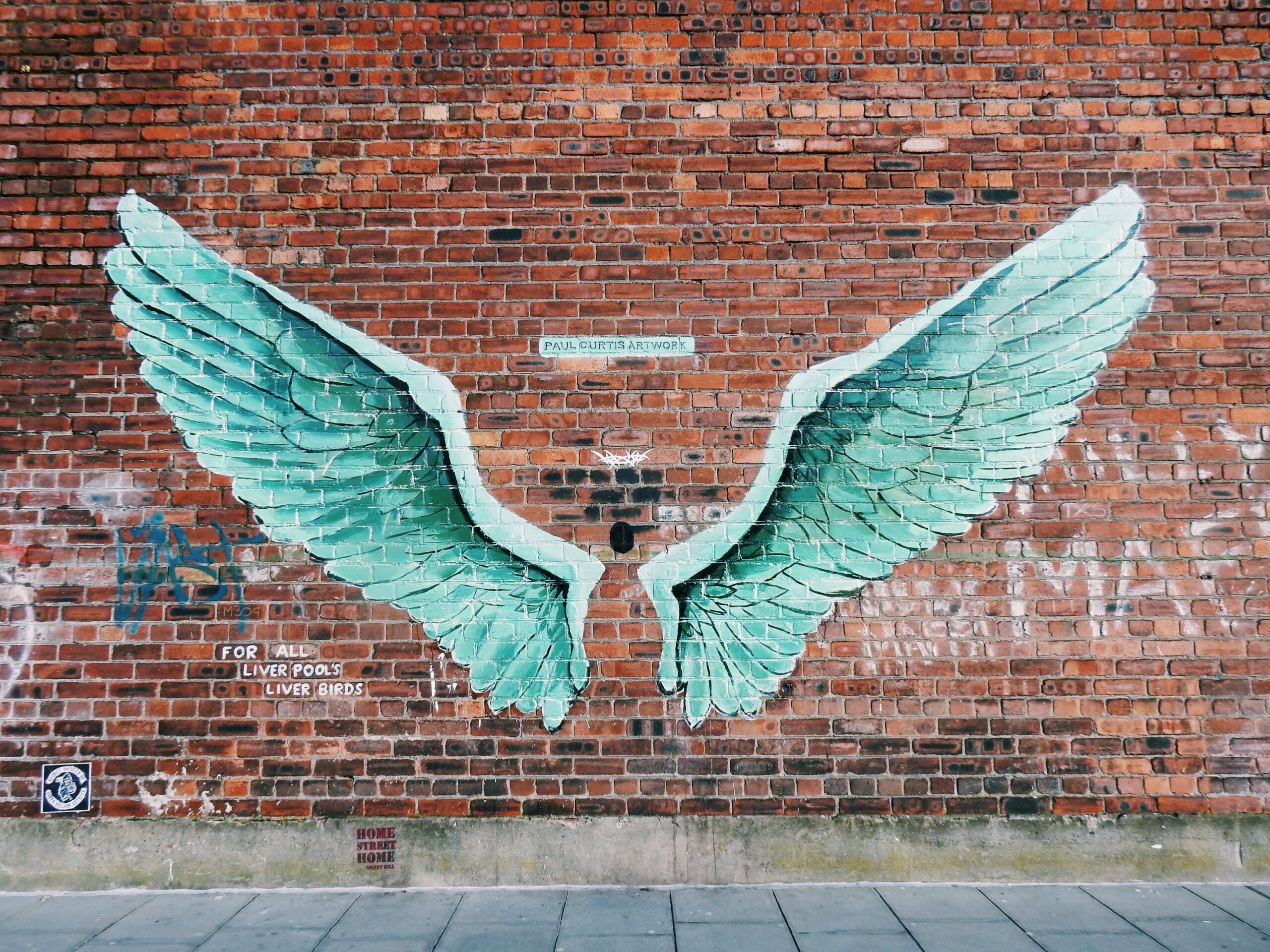 Play a Round of Golf
Ghetto Golf that is! Set up in an old warehouse in the Cains Brewery Village, Ghetto Golf is an alternative mini golfing, adult-only experience. 18 creative courses are set across multiple levels with some feeling nearly impossible! There's live DJs, delicious street food, craft beers and deadly cocktails to enjoy too. Pre-booking is recommended so make sure to check their website for available times and dates in advance.
Escape the City in Sefton Park
Sefton Park is one of Liverpool's biggest and arguably most beautiful parks. Located a couple of miles from the city, its easily accessible on foot, by bus or by hiring one of the City Bikes stationed across Liverpool. Whilst there, be sure to visit the Palm House, a beautiful glass structure filled with exotic plants. You might even be able to catch one of their regular yoga sessions there amongst the greenery.
Enjoy Rooftop Drinks
Dotted along the waterfront, there are number of bars that have a rooftop terrace. They're perfect for a having a few drinks and enjoying the stunning views across the Mersey and along the waterfront. Our favourites are Matou at Pier Head and Oh Me Oh My on the Strand.
Not sure where to eat and drink during your stay in Liverpool? Check out our comprehensive food and drink guide!
Now Book Your Hotel
Now it's time to book accommodation for your stay. We have cosy double rooms at the quirky Bridewell hotel, which is a grade 2 listed converted victorian prison. Or if that doesn't take your fancy try out our modern & stylish serviced apartments at Parker Street. Always make sure you contact us directly to receive the best rate (cheaper than booking.com).
Be sure to follow Caro Short Stay on Facebook, Instagram and Twitter for things to do and see in Liverpool plus exclusive offers!