Few things beat the feeling of a warm summer evening, good friends by your side and a refreshing drink in your hand.
Oh, and did we mention a fabulous view?
The longest day of the year might have passed us by, but there's still plenty of time to soak up the lighter evenings with Liverpool's incredible summer drinking spots.
Check out this list of the best summer bars in Liverpool, including beer gardens and rooftop bars.
Botanical Garden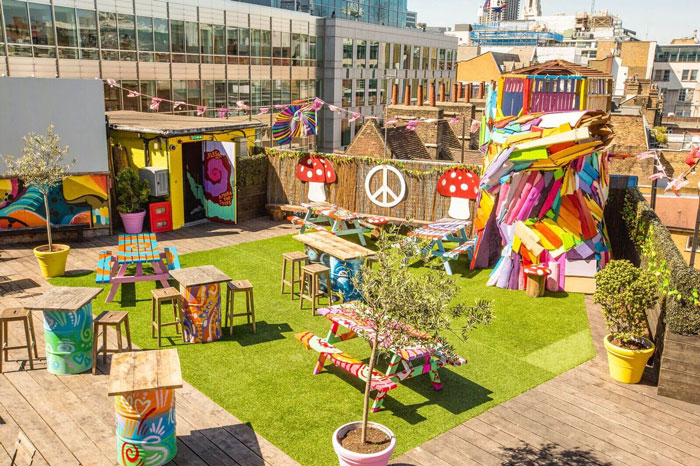 Hidden away off New Bird Street, this enchanting pop-up gin garden is a popular spot during the summer months.
Open only till September, you'll have to hurry if you want to experience this cool yet cosy 'yard'-style garden, lined with abundant plants and string lights. This place has plenty of events taking place over the summer, including Independent Liverpool's outdoor cinema.
The Pump House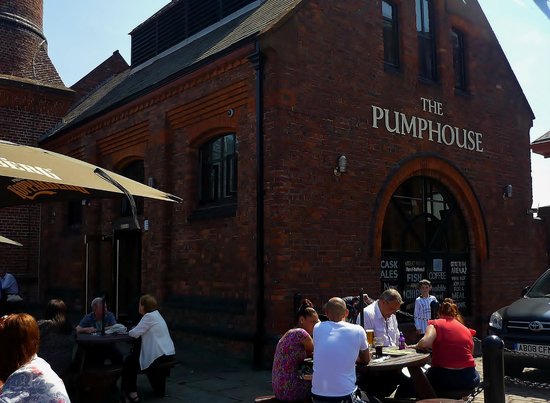 Based in a former pumphouse built in 1870, The Pump House is now a Grade II listed building and major landmark on Liverpool's waterfront.
Enjoy this quintessential, cosy British pub-restaurant, along with stunning skyline views over the River Mersey.
Kazimier Gardens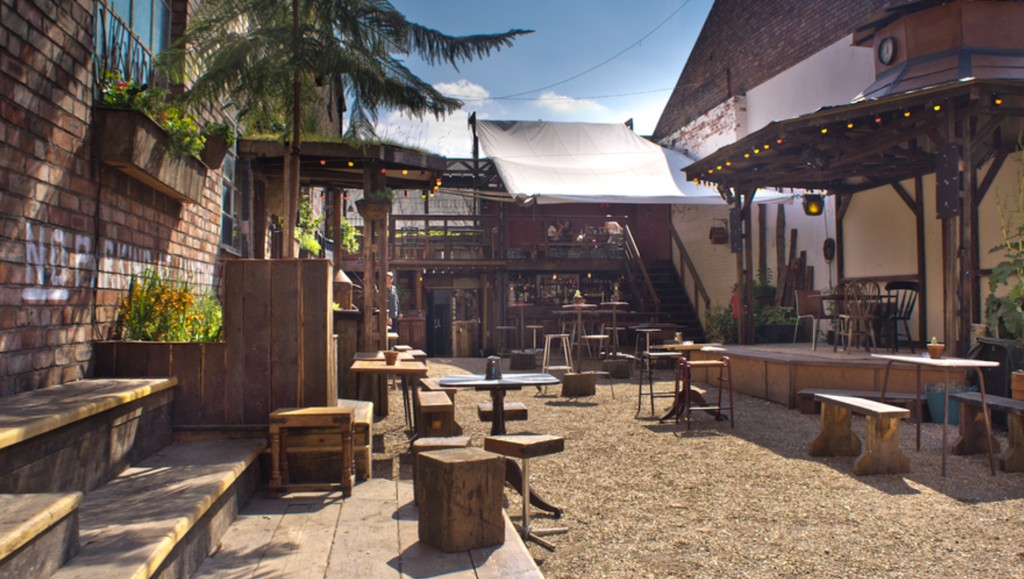 All of us were super sad to see the Kaz go, feeling like Liverpool had definitely lost a bit of its independent scene, somehow.
Luckily, however, we still have the Kaz gardens.
Set in a refurbished car park, this beautiful space makes you feel like you're in somebody's very purpose-built back yard, but with a contagious Caribbean theme.
Expect fairy lights, foliage, DJs and hot food fresh off the grill, if you're lucky.
Baltic Market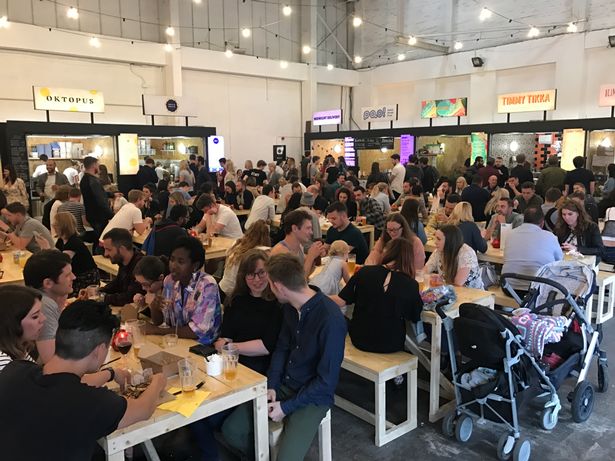 One of the newest endeavours from the guys at Independent Liverpool, Baltic Market has been drawing in Liverpool crowds weekly with its array of market stalls and freshly cooked street foods.
The outdoor cocktail garden however, has its own special touch, with iconic views of Cain's Brewery and the cathedral. Sip on special guest beers from local breweries, rum cocktails and Fanta lemon gin slushies. Yum.
Birdies Bar & BBQ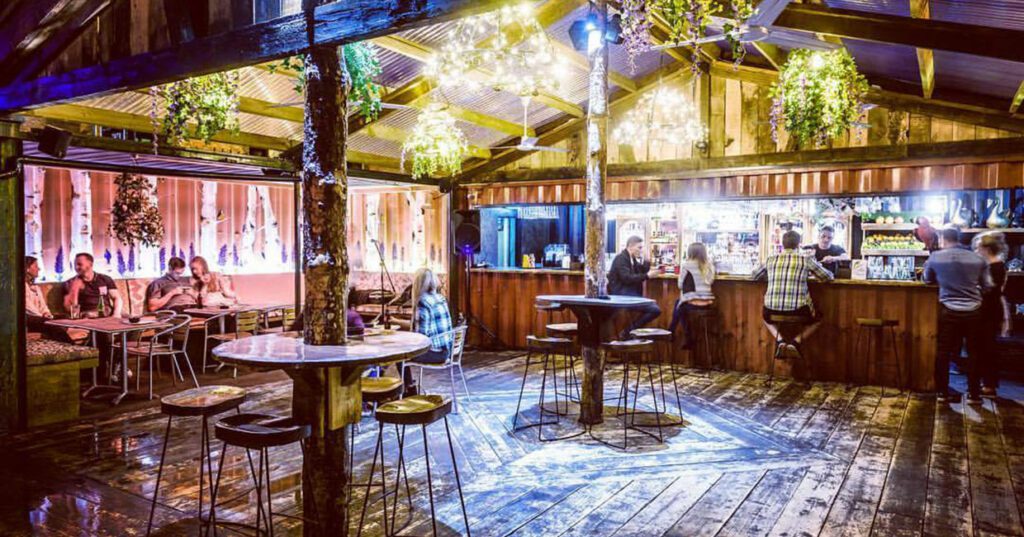 Outside Ghetto Golf on the the corner of Parliament St and Grafton St, lies Birdies Bar & BBQ.
This outdoor bar and smokehouse offers BBQs all year round, with regular live music, an impressive beer selection and smoked foods from Apocalypse Cow.
Sit atop plush turf beneath calming palm trees, and stay warm on chiller nights thanks to the patio heaters.
Goodness Gracious Roof Garden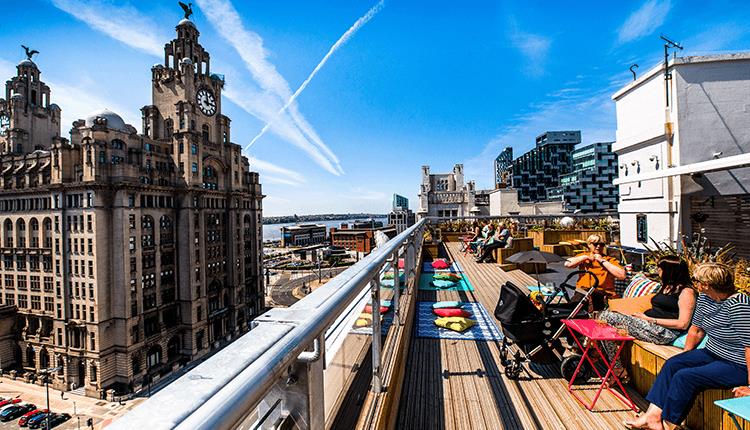 Located on the rooftop of Oh Me Oh My, Goodness Gracious Garden has always pretty much remained a sworn secret (until now).
Featuring awe-inspiring views across the city and skyline, you'll be marvellously close to the Three Graces, and feel like you can practically touch the Royal Liver Building. The garden is decorated with wooden decking and fun coloured cushions for a laid-back, nautical feel.
The Clove Hitch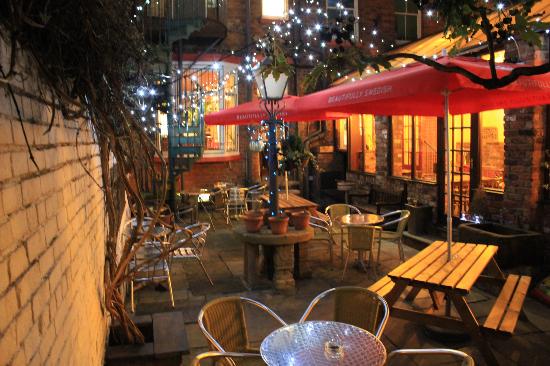 Based in the elegant Georgian quarter, we love The Clove Hitch for its sassy, Parisian feel.
With spiral stairs draped in flowers and branches, there's something about this place that's almost Shakespearean. With plenty of greenery and vegetation, and fairy lights strung overhead, it's the perfect sun-trap by day and cosy twilight nook by night.
It also happens to have one of the best beer selections in the city.
HUS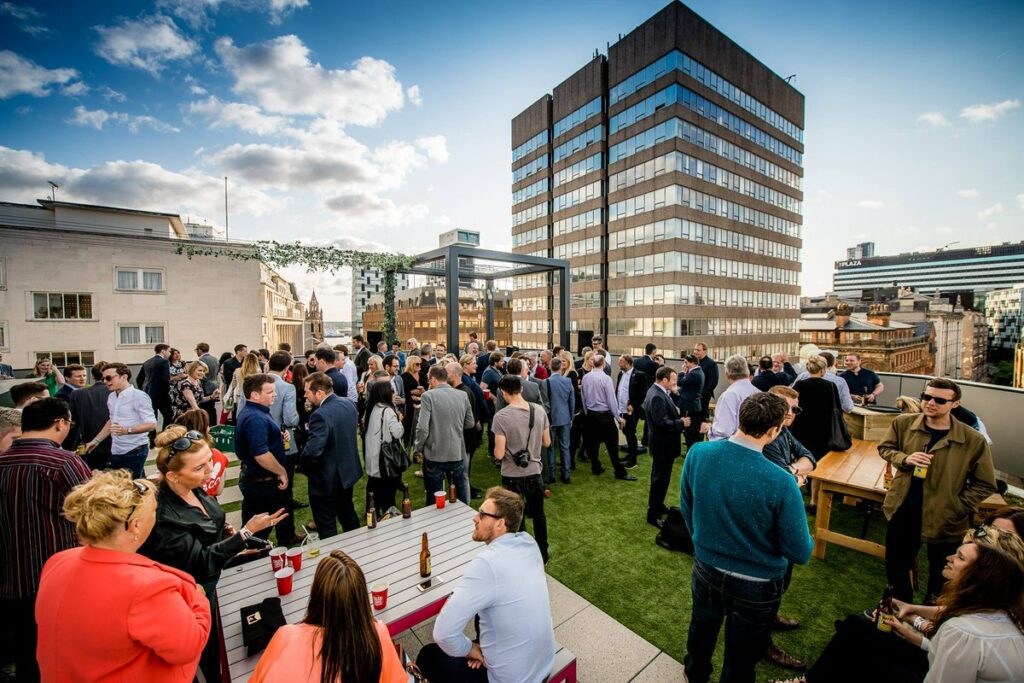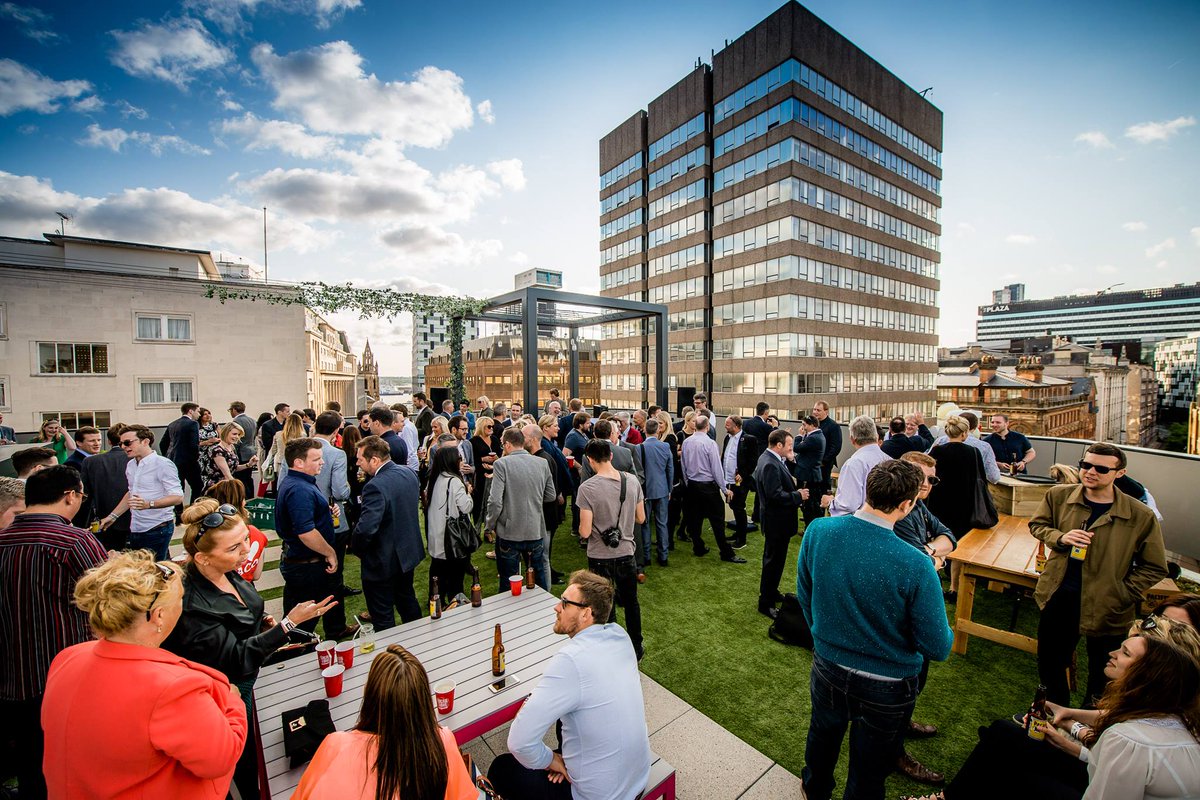 From the same chaps that brought us Independent Liverpool and the Baltic Market, HUS is another one of the city's unique rooftop bars.
Inspired by the Stockholm and Copenhagan food scene, HUS offers free BBQs, regular events and amazing views of the city. Don't forget to take a peer at the iconic female nomad art piece painted onto the side of the Tempest Building when you visit.
Blind Tiger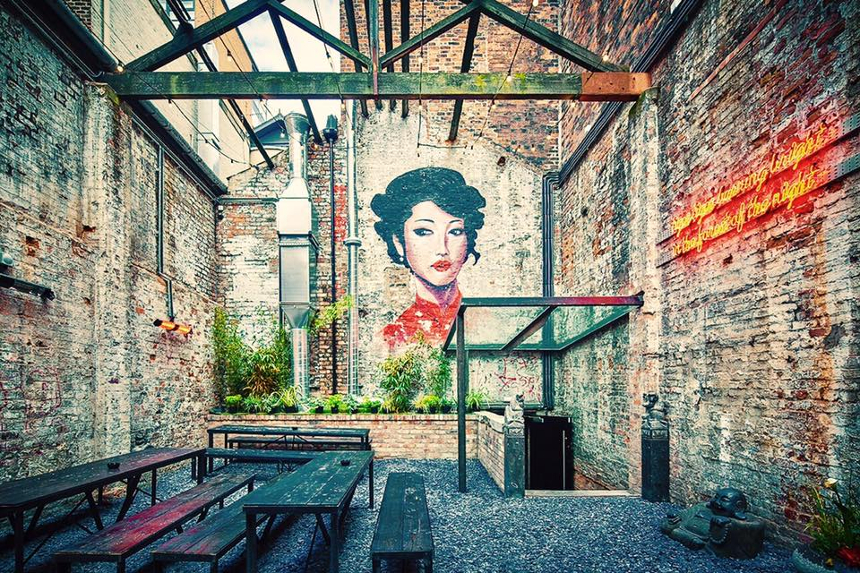 Smack bang in the middle of Seel Street's addictive nightlife scene, Blind Tiger is known for its delicate drinks and sake and amazing dim sum.
It's the garden that really draws people in though, thanks to its high-beamed 'yard' vibe, friendly atmosphere and amazing mural of a geisha girl painted onto one of the walls.
Red Door Rooftop Terrace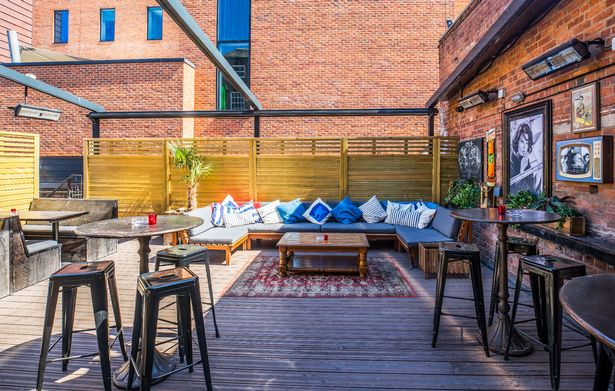 Red Door on Bury St have been doing some pretty awesome things of late, and that includes their new rooftop terrace.
When you arrive, you'll feel as though you just stumbled into somebody's exposed-brick living room, but with an open-air setting. Be welcomed by rustic benches lined with cosy tartan and faux fur throws, as well as cushions, string lights, wall heaters and an assortment of striking artwork.
Prosecco on tap, as well as BBQs and various events over the summer, all await you when you choose to spend an evening on Red Door's rooftop terrace.
The Merchant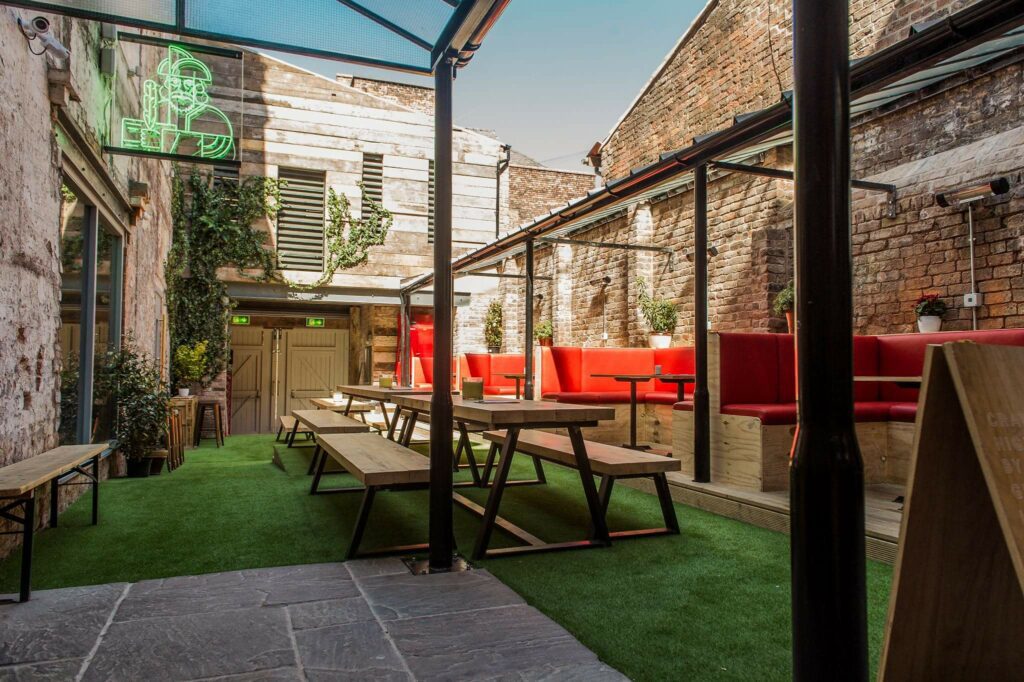 The Merchant is a relaxed, New York-style outdoor garden in the former home of Mello Mello.
With heated booths mounted on wooden decking and use of raw materials and minimal decor, it successfully manages to create an irresistible and spacious hangout space.
Enjoy pizza by the slice, speciality gin by the goblet, craft beers on tap and brilliant BOGOF offers on £1 G&Ts!
Constellations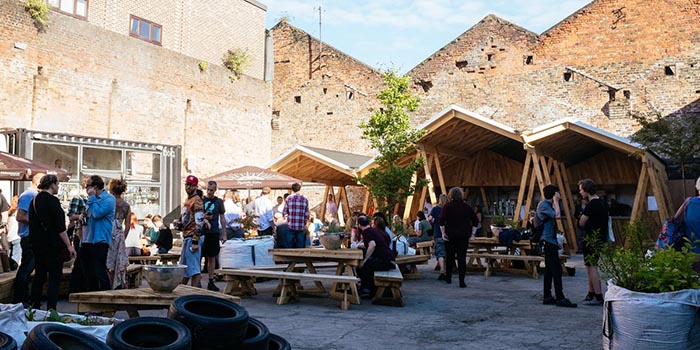 Constellations is one of the city's key event spaces in the Baltic Triangle, and features a 4500 ft garden and bar area you'll love to spend a summer's evening.
Designed by H Miller Bros, the space features zigzagging beam structures that mimic the Victorian warehouses nearby, and boasts locally brewed craft beers, live music and other events.
Free State Kitchen
Free State Kitchen is not just your local beer garden, but burger garden.
Tucked away on Maryland St full of shrubs and greenery, it offers a mouthwatering selection of burgers, beers and ales and is a great place to catch the sun of an afternoon.
Fezziwig's Gin Yard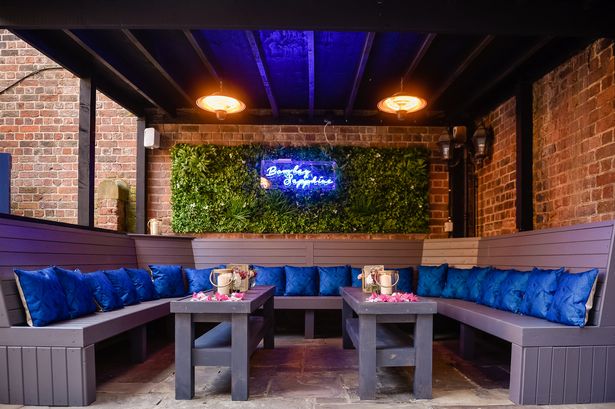 Lord knows how much Liverpool loves its gin, and Fezziwig's Gin Yard is another indicator of that.
Based in the walled yard of the old Bridewell, in Furnival's Well, Campbell Square, it was created in partnership with Bombay Sapphire and named after Charles Dickens' party-loving character Mr Fezziwig.
Get comfortable and choose from a hand-picked selection of exquisite gins. We think this place is made by the Bombay brand-inspired touches, like blue velvet cushions and neon signs.
Planning a weekend break or a night's stay in the city? Get your accommodation sorted with our luxury short stay apartments in Liverpool.