Is there anything more perfect on a Sunday than a roast dinner? Especially when you're hungover and its probably the first thing you've managed to eat all day AND keep down. We've put together a handy guide about Liverpool roast dinners you need in your life. Whilst they may not be as good as your mum's, cause let's be honest nothing will ever compare, we guarantee they will soothe your soul and help set you up for the week ahead.
*Booking is recommended to avoid disappointment*
Slims Pork Chop Express
85 Seel Street, L1 4BB
The roasts at Slims Pork Chop Express were made for sharing. Generous servings of delicious slow cooked meats along with crispy roasted potatoes and veggies, giant yorkshires and mouth-watering gravy are the perfect end to the weekend. It gets pretty busy down there so best to book in advance.
The Blackburne Pub and Eatery
24 Catherine Street, L8 7NL
Tucked away in the Georgian Quarter and just a stone's throw from the University of Liverpool, The Blackburne claims to have the best Sunday roast in the city. The menu changes each week and if the weather is nice, you can even sit outside
Camp and furnace
67 Greenland Street, L1 0BY
Described by the Sunday times as the stuff of legends, Sunday dinners kick off at 12pm and run till 6pm so no need to rush down. Communal dining means everyone sits together on long trestle tables, with whole chickens or joints of sirloin, lamb or pork, plus all the trimmings is sent from the kitchen uncarved. Diners can then tuck into whatever they fancy. Finish off with some delicious homemade sharing desserts like the Giant Sticky Toffee Pudding swimming in yellow custard.
The Monro
92 Duke Street, L1 5AG
This Gastro pub on Duke Street has a stellar reputation for their Sunday roasts. Here, you can get 2 courses for £16.50 and 3 for £19.50. Starters include Soup of the day, Korean chicken bites, smoked mackerel pate and prawn cocktail. For the roast, you can choose from leg of lamb, pork loin, topside of beef, nut roast or sweet potato. You've of course got all your standard sides like roasties and seasonal veg and desserts include sticky toffee pudding and a cheeseboard.
The Baltic Social
27 Parliament Street, L8 5RN
The Baltic Social is in Liverpool's hip Baltic Triangle. It's the place to go for a drink after work or see some cool live music. It's also the place to go for a delicious roast dinner. Apparently they also have a life changing sticky toffee pud too!
Ma Boyle's ale house and eatery
7 Tower Gardens, Tower Building, The Strand, L3 1LG
A Liverpool roast dinner like you've never experienced and only a few minutes from the Bridewell! Ma Boyle's specialises in roast dinner fondues. Slow cooked beef or roasted chicken is dipped into pots of delicious red wine gravy and served with waffle style yorkshires, roasties and seasonal veg. Roast dinner fondues are the future – trust us!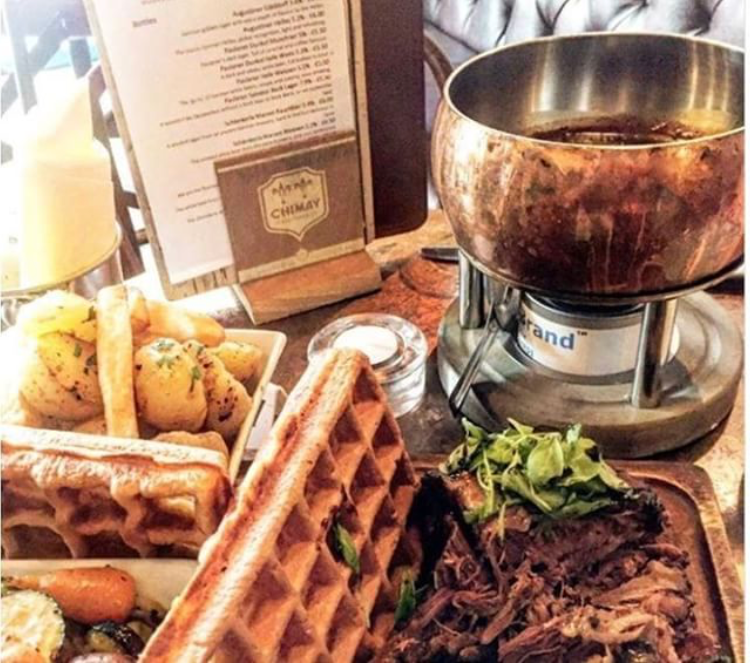 So, there's our round up of the 5 Liverpool roast dinners to help soothe your hangover. Liked this? Check out our guide to Liverpool's best beer gardens (outside heaters included!)
Don't forget, you can also follow us on Instagram, Facebook and Twitter. to keep up to date with everything happening in the best city in the UK!
Take a look at our student accommodation in Liverpool with a small number of spaces available for 2019/20.